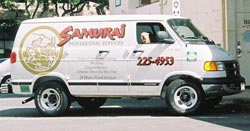 Samurai Professional Services
PO Box 8755
Honolulu, HI 96816
Watch Out for the Low End Price Cleaners
– Misleading advertising and low end price cleaners can leave cleaners who offer quality service at a disadvantage. Advertisements promising carpet cleaning at unbelievably low prices, like $30.00 or $44.00 a room are prevalent these days. If you think they are too good to be true, you're probably correct.
– Have you been left with an over wet and still dirty carpet? Quality service requires investment and takes some time. It is not possible to offer good service at ridiculously low prices. Do not fall victim to low pricing or bait and switch tactics.
Or, complete the following form and click Submit. We will contact you as soon as possible regarding your request.