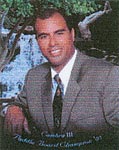 Whether tackling dirty carpets, installing tile or moving valuable household items, Samurai Professional Services President Tony Cambra gets the job done and gets it done right.
A local boy with deep roots in Hawaii, Tony knows only one way of doing business, give clients the best work possible with the highest level of customer service.
This attitude stems from Tony's experience in the highly-competitive world of sports, where he was a paddleboard champion, Olympic-caliber swimmer, and winner of multiple biathlons. Success in these grueling sports demands complete dedication and focus, qualities that Tony now brings to his clients.
Tony's close ties to Japan have also shaped his strong work ethic (hence the name 'Samurai'). Though not Japanese himself, Tony has been surrounded by Japanese people and culture all his life. These contacts have made a deep impression on Tony, who adopted the Japanese obsession with customer service and made it an integral part of Samurai Professional Services.
Tony's professionalism has brought him numerous high-profile clients, both residential and commercial. These clients include Jim Nabors, Don Ho and The Brothers Cazimero, as well as Macy's, the Disney Store and Na Hoku, among others.
Give Tony a call and see for yourself why Samurai Professional Services provides stellar results and uncompromising customer care at affordable prices.